Want To Buy a
How Buying or Selling a Home Benefits the Economy and Your Community



If you're thinking of buying or selling a home, chances are you're focusing on the many extraordinary ways it'll change your life. But do you know it has a large impact on your community too?
To measure that impact, the National Association of Realtors (NAR) releases a report each year to highlight just how much economic activity a home sale generates. The chart below shows how the sale of both a newly built home and an existing home impact the economy: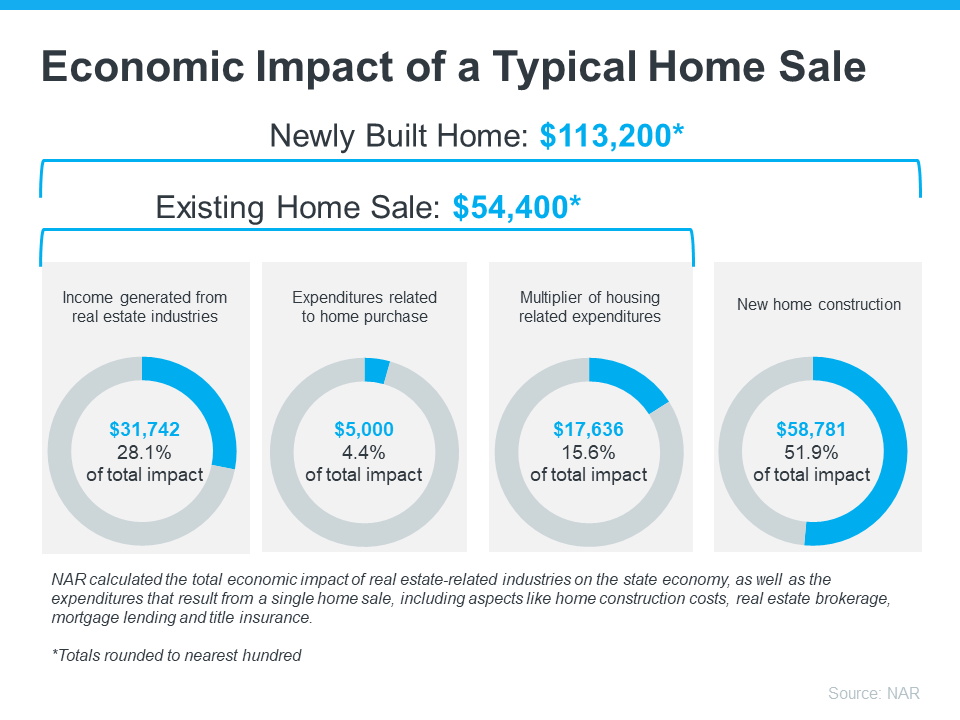 As the visual shows, a single home sale can have a significant effect on the overall economy. To dive a level deeper, NAR also provides a detailed look at how that varies state-by-state for newly built homes (see map below):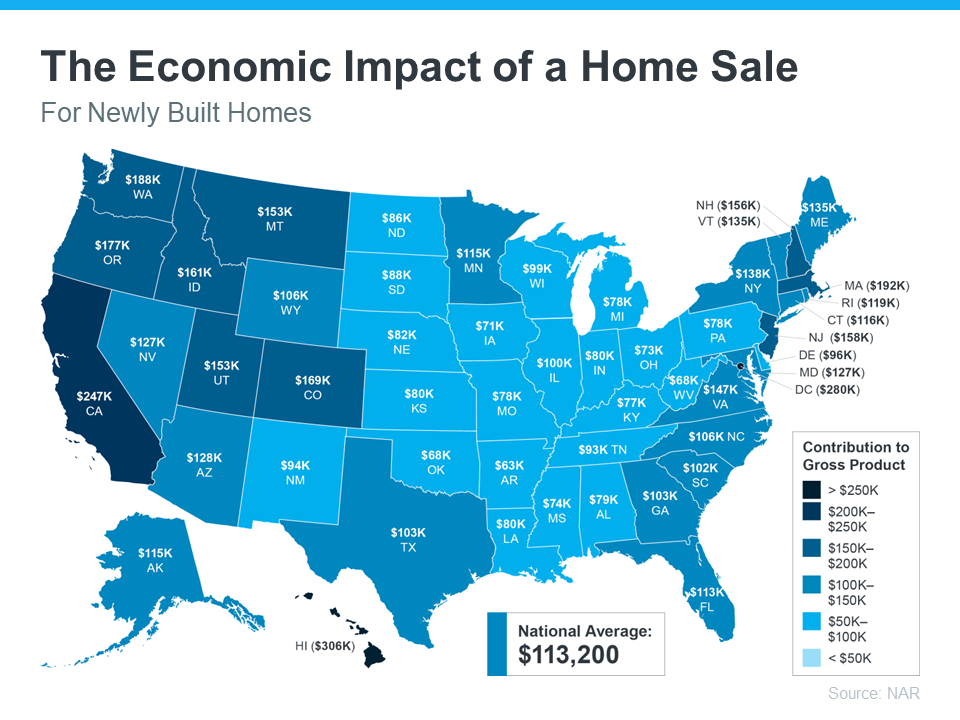 You may be wondering: how can a single home sale have such a major effect on the economy?
For starters, there are multiple industries that play a role in the process. Numerous contractors, specialists, lawyers, town and city officials, and so many other professionals are all necessary at various stages during the transaction. Every individual you work with, like your trusted real estate advisor, has a team of professionals involved behind the scenes.
That means when you buy or sell a home, you're leaving a lasting impression on the community at large. Let the knowledge that you're contributing to those around you while also meeting your own needs help you feel even more empowered when you decide to make your move this year.
Bottom Line
Homebuyers and sellers are economic drivers in their community and beyond. Let's connect so you have a trusted real estate advisor on your side if you're ready to get started. It won't just change your life; it'll make a powerful impact on your entire community.
Home? Now May Be the Time.



There are more homes for sale today than at any time last year. So, if you tried to buy a home last year and were outbid or out priced, now may be your opportunity. The number of homes for sale in the U.S. has been growing over the past four months as rising mortgage rates help slow the frenzy the housing market saw during the pandemic.
Lawrence Yun, Chief Economist at the National Association of Realtors (NAR), explains why the shifting market creates a window of opportunity for you:
"This is an opportunity for people with a secure job to jump into the market, when other people are a little hesitant because of a possible recession. . . They'll have fewer buyers to compete with."
Two Reasons There Are More Homes for Sale
The first reason the market is seeing more homes available for sale is the number of sales happening each month has decreased. This slowdown has been caused by rising mortgage rates and rising home prices, leading many to postpone or put off buying. The graph below uses data from realtor.com to show how active real estate listings have risen over the past four months as a result.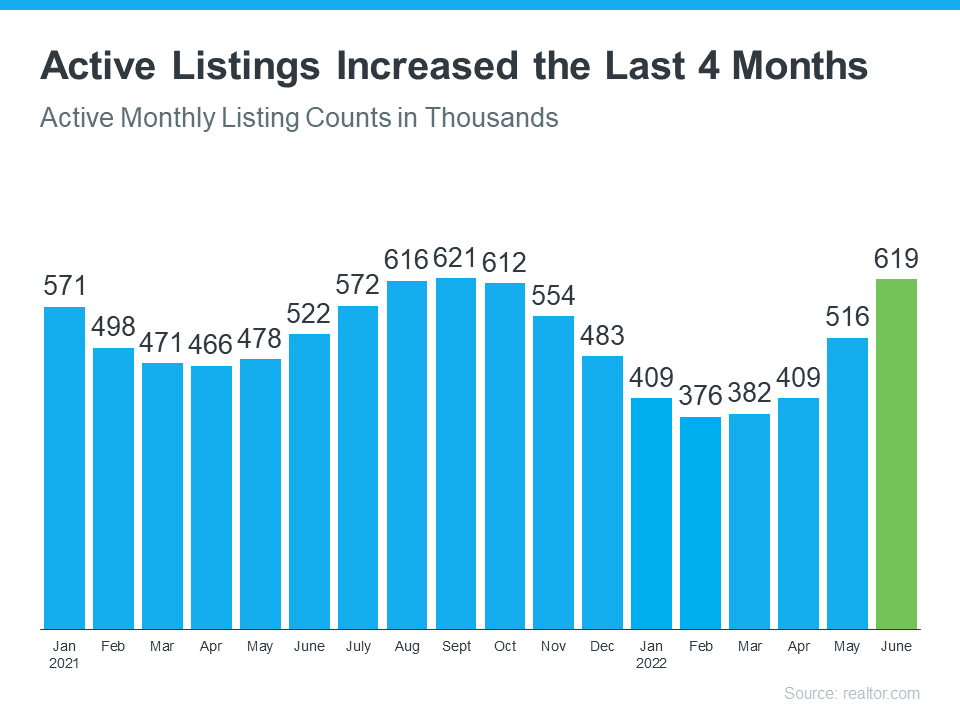 The second reason the market is seeing more homes available for sale is because the number of people selling their homes is also rising. The graph below outlines new monthly listings coming onto the market compared to last year. As the graph shows, for the past three months, more people have put their homes on the market than the previous year.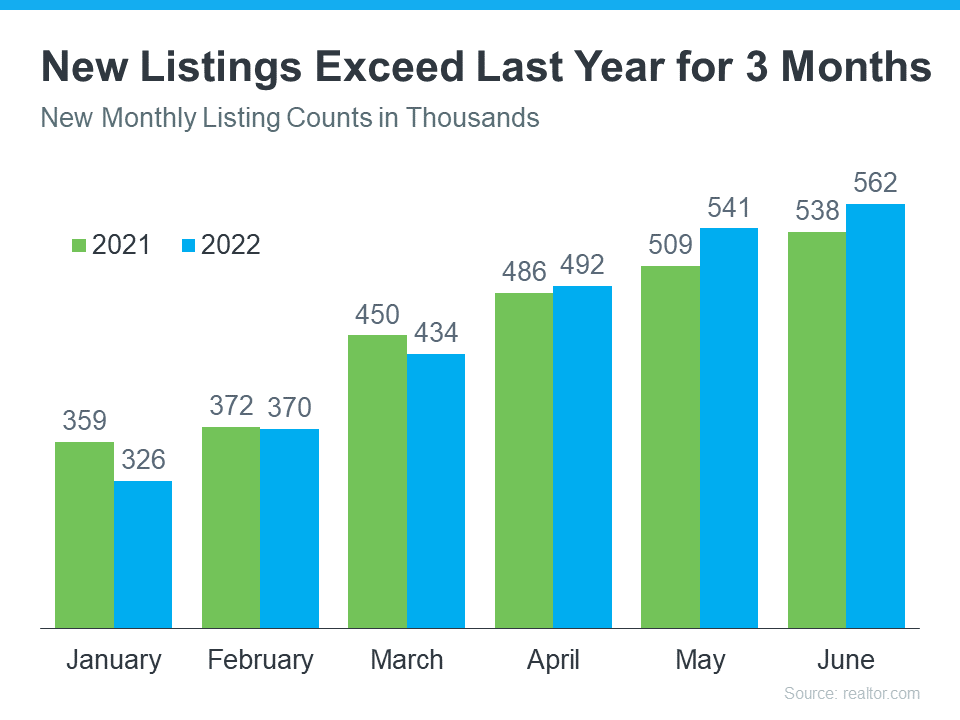 Bottom Line
The number of homes for sale across the country is growing, and that means more options for those thinking about buying a home. This is the opportunity many have been waiting for who were outbid or out priced last year.